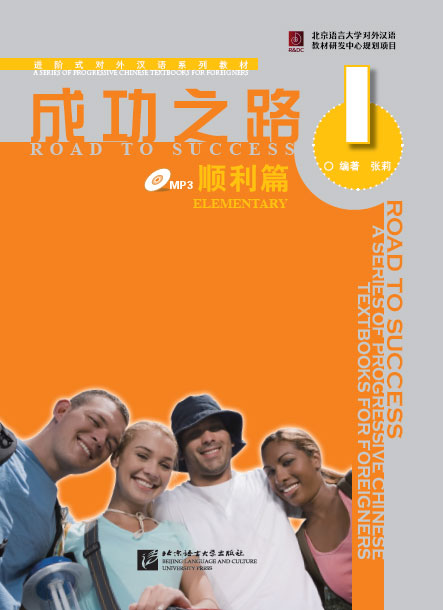 Road to Success is a series of foreign language teaching materials for non-native learners of Chinese. It not only can be applied to classroom teaching of formal Chinese teaching institutions, but also can meet the demands of various forms of teaching and self-study learners. It provides a comprehensive and rich teaching content and builds a scrupulous and standard teaching platform. Learners can get systematic learning and training of Chinese language knowledge, skills and culture. Moreover, the combinatorial design of Road to Success meets to the greatest extent diversified needs of teaching and learning by providing a wide choice for all types of teaching institutions and self-study learners.
Elementary, following Lower Elementary of Road to Success, is a integrated textbook for elementary Chinese students.
It consists of two volumes, each of which consists of 3 units. Each unit is composed of 4 lessons, all of which center around one topic. The topics are all the students familiar with and interested in when they study in China, including daily life, campus life, transportation and travel, entertainment and culture etc. The students will be able to learn over 600 Chinese words after learning these two volumes and further improve their listening, speaking, reading and writing skills.
ISBN: 9787561921784
Unit 1 日常生活 Daily Life
Lesson 1
你的手机关机了 Your cell phone was turned off
Lesson 2
她买了不少工艺品 She bought quite a few pieces of handicraft
Lesson 3
我想租一套房子 I want to rent an apartment
Lesson 4
咱们去饭馆吃饭吧 Let's go out to eat in a restaurant
Unit 2 校园生活 Campus Life
Lesson 5
今天我看了一晚上电视 I've been watching TV the whole evening
Lesson 6
能不能帮忙找个语伴 Could you help me find a language partner
Lesson 7
我七点五十才起床 I didn't get up until seven fifty
Lesson 8
可能做错了不少题 There are probably quite a few questions that were answered incorrectly
Unit 3 交通旅游 Transportation and Travele
Lesson 9
考完试就要放假了 The vacation will come right after the examination
Lesson 10
坐飞机只比坐火车贵几十块钱 Taking the airplane is only dozens of yuan more expensive than taking the train
Lesson 11
你都去过哪些地方 Which places have you been to
Lesson 12
这些照片是在哪儿拍的 Where were these pictures taken